2019 festival dates TBA
Listed below is the 2018 Creative Strings Festival Schedule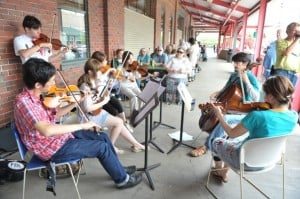 See Press Release Information Here
For the 16th year, the Creative Strings Festival promises to inundate Central Ohio with the sound of strings at a wide range of venues July 3rd-6th, including a Columbus Music Hop July 3rd and a Delaware Music Hop July 6th. Find our schedule of live performances below.
Featured guest artists can be found here. Twelve guest artists will collaborate with over 65 string players traveling from six countries to rehearse and perform the festival concerts. Participants include include string players of all levels of experience including professional performers, teachers, amateurs, as well as collegiate and high school musicians intent on pursuing careers in music.
All performances are free and family-friendly unless noted otherwise.
Highlight Concerts:
July 5th – "Having Our Say: Concert and Conversation" Cedric Easton & Circle of friends team up with Christian Howes' Creative String Workshop to present the second annual Concerts & Conversation community concert. This year we have the privilege to present "Having Our Say", an exploration of equity and access for women in our society. This event seeks to support the South Side community. With Jazz and Fiddle styled music coupled with invaluable insight, this evening is sure to be an unforgettable experience.
Featured Artists:
The Creative Strings Workshop Orchestra (70 violinists, violists, and cellists)
Rez Abbasi (guitar)
Cedric Easton (drums & vocal)
DJ Washington
Micah Thomas (keyboard)
Jennifer Vincent (bass)
Panelists:
Jackie Calderone
Sandra Moody
Dr. Mona Robinson
Basic Detail:
July 6th – Finale Concert in Delaware featuring over 75 musicians from the Creative Strings small ensembles.
---
Festival Schedule:
July 3rd – Creative Strings Columbus Music Hop
July 5th – Columbus Highlight Concert
"Having Our Say: Concert and Conversation" featuring Cedric Easton's "Circle of Friends" and over 75 musicians from Creative Strings Orchestra
July 6 – Creative Strings Delaware Music Hop
From Chris Deville's article in Columbus Alive, Music: Creative Strings Festival.
"Classical music can be, for lack of a better word, kinda stuffy. But not if Christian Howes has anything to say about it.

The esteemed jazz violinist hosts his Creative Strings Festival, aimed at helping violinists, cellists and the like learn to improvise and unlock their creative potential.

Howes recruits top innovators in his field as mentors for adults from around the world and a handful of Columbus kids aiming to expand their musical palettes. The fruits of their labor will be on display at public performances throughout the week."
---
Special thanks to this year's sponsors:
Greater Columbus Arts Council & The City of Columbus
Creative Strings is grateful for the support of the Greater Columbus Arts Council.
Ohio Arts Council | Yamaha Strings | D'Addario Bowed | The Loft Violin Shop
Thanks also to our community partners: Delaware Libraries, United Methodist Church for All People, William St. United Methodist Church, Central Community House, The School of Greatness, Delaware City Schools, Dick's Den, Willowbeez Soulveg, Main Street Delaware and the Columbus Metropolitan Library.
Creative Strings is a non-profit cultural organization with a mission to transform music education through outreach, summer conference, and online curriculum.