Introducing…
Includes…
Extensive, comprehensive curriculum developed from my 20+ years of experience
Weekly play-a-long group classes (2 hours)
Support and advice on recording your compositions, arrangements, and improvised performances
Private lessons, exclusive community, & much more…
Starting Out…
Whether you're a student, amateur, pro player or teacher, we've got something for you. The moment you join, you'll get…
an introductory private lesson to clarify your goals and choose your first project(s).
a workbook to track progress & stay accountable.
access to our private Facebook group with ready-to-go units created by me and the mentors
Access to weekly group classes on Zoom (replays available)
Throughout the term you'll be able to attend group classes, access all units and course materials, and complete your projects with anytime feedback. At the end, you'll receive a second private lesson.






You'll also get long form lesson articles dripped out in emails to keep you motivated and inspired . One member said it was good for reading in bed. If you're familiar with emails to my list of 14,000 followers, these premium emails take it to another level.
Project-Based Learning
Project-based learning allows you to develop new skills while creating lasting content that you can be proud of. Pick your starting project and path in week one and go from there.
Our personalized, online format makes it easy for us to focus on what you want to learn by providing:
A multi-week curriculum and master classes tailored to your needs
Guidance and accountability as you complete your independent creative projects (or assign them to your students!)
Players | Develop Your Creative Portfolio
Use your finished projects to market your brand and get more of the gigs you want. Invest in developing your creative voice so you and others can celebrate it. click here to sign-up now
Teachers | Give Awesome Projects to Your Students
Share course materials directly with students and get them working on projects of their own! They can work either solo or in small teams. These courses would otherwise normally cost thousands for your district. click here to sign-up now
Here's some examples of projects you or your students might make:

Fiddle Funk Low-Down Looping
"Georgia on My Mind" for String Ensemble
Improvisation for Unaccompanied Violin
Unlimited Personal Feedback on Your Progress
For each step you take, post your work to get feedback from me and the mentors in your own personal thread.

Post whatever you want, whenever is convenient for you!




Interactive Group Classes
Attend fast-paced, content-packed classes every week. Replays available.
Scheduled in advance by topics

Curriculum taught live so you actually get it done- because you set it in your calendar and show up.

Opportunities to perform for feedback in front of the group.
Get a FREE Zoom Masterclass Replay- just leave your email below"

Three Foundational Units
New to improv? Or just looking to really build a solid foundation? Consider making your first project based on one of these units:

1. EASY TONAL IMPROVISATION
Learn to compose, arranger, or improvise over foundational tonal chord progressions using Pachelbel's Canon as an example. Apply your newfound skills to your own projects, like arranging your own song covers (complete with multiple parts!) and more.
Includes:
10 play-along videos with Chris with a young student demoing exercises
3 play-a-long video masterclasses with Chris
3 play-a-long videos with Chris and a high school orchestra
A printable workbook so you can work away from your computer, or even your instrument!
Backing tracks in multiple styles
and more…
2. FREE IMPROVISATION
Start creating your own music immediately-no theory necessary. Includes:
11-part play-along series requiring no previous experience
5-part play-along series requiring no previous experience
A list of 100 ideas for free improvisations
And more…
Many current members are recording 5-25 improvisations every day using this course right now.

3. PLAY-ALONG VIDEOS BY STYLE
Record composed or improvised performances to backing tracks in various styles. Perfect "mini projects" for you or your students.






Additional Resources
Ready for more? You'll get access to multiple additional units with resources covering diverse stylistic interests and applications like: (click on topic for description)



Advanced Jazz Harmony
Whether learn bebop scales and play fast lines over jazz standards.
Dive into melodic minor for a Gypsy Jazz or modern sound.
Master blending pentatonic scales together to make your lines sound more interesting.
Bossa and Samba
Perform beautiful melodies in these gentle, accessible, Brazilian styles.
Blues
Internalize rhythms, scales, forms, and a few key secrets that no one else will teach you.
Rock
Master the anatomy of rock licks and style. Jam out to piees like "Little Wing" by Jimi Hendrix
Fiddle
Learn tunes by ear or by sheet music. Learn how to apply stylistic bowings or how to accompany, solo, and chop if you want.
Modal Improv
Learn to improve using modes. Useful for rock, blues, fiddle styles, jazz and more..
Efficient Practice
Learn how to incorporate harmony, rhythm, and improv into your technical warm-ups for increased gains in less time.
Rhythmic Internalization
Develop your sense of groove in styles beyond classical


In short, you'll have access to the most extensive course curriculum in the world of creative string playing. It's been developed and expanded upon for over 15 years in Creative Strings Academy, with the difference that this is a guided bootcamp, so you actually get it done.
This course will also show you how to teach & market online
You'll see how I efficiently automate, batch process, provide personalization, content, and accountability online, as someone who has done it for 15 years. I'll actively teach these strategies, so you'll be able to gain confidence teaching online.
I'll also show you many of the tactics and strategies I used to develop my brand and build my audience, whether you want to acquire more gigs from bandleaders, tour, teach, or grow your fan base…
Diverse Perspectives from World-class Coaches
I have strong opinions, but I want you to get second and third opinions too. That's why I've asked…
VICTORIA YEH

Canadian classical & rock double-threat

JASON ANICK

Extreme virtuoso with an extremely big heart!

ANDY REINER

Skiing Fiddler, philosopher, tune-writer, & inventor of fiddle style fusions

GEORGIA RAE

Freestyle eclectic singer-songwriting fiddler poet savante

PHILIP SHEEGOG

Open-minded Juilliard-trained cellist destined to save the world by age 35

JULIAN FERRARETTO

British-Australian bi-continental scholar, dad, and swinging fiddler extraordinaire

NEIL GILFILLAN

Changing Suzuki students lives one turntable-meets-cello beat at a time
Review- Everything You Get with Full Access:
The ability to focus on your goals in a project-based curriculum
Individualized, timely support via private online forum from me and our world-class mentors
Weekly Interactive Group Calls to connect with community and make sure you get it done
Access to premium content (the same content available at my live camps and in my online Creative Strings Academy)
Materials to share with your students in school-friendly formats (teacher access only)
Two private lessons
What's this Worth?
This can best be compared to a semester at a conservatory, where the most affordable programs charge a few thousand dollars
Higher end schools like Berklee, where I used to teach, cost tens of thousands, without the level of flexibility and access to curriculum we are offering.
Sign up and decide for yourself if other options really offer you:
this level of cutting edge curriculum.
real time personalized feedback.
the challenge and value of personalized projects.
a full seven weeks for even close to this price.
My Guarantee:
Show up, schedule a lesson, and post within seven days. If you're not satisfied, I'll refund
you and keep just $50 for the first private lesson.
Registering now for the Fall Session (Sept 1- Oct 15)
Individual Access:
Players Premium Access - Creative Strings Workshop Online
The full packages: includes access to the private forum, all units, two private lessons, and live stream (Zoom) series and replays.
Players Course Only Access - Creative Strings Workshop Online
Includes access to all units, written materials, and 1 private lesson. (No live stream access.)
EARLY BIRD PRICING ends 11:59 PM EST on October 4 Prices will increase October 5
Players Livestream Only Access - Creative Strings Workshop Online
Access to all live-streams (Zoom) and live-stream replays for the duration of the course.
Live classes will take place Thursdays at 1 pm EST and Saturdays at 7:30 pm EST. This schedule was chosen to accommodate people in different time zones. Attendance at both sessions each week is NOT required to get a complete experience (although welcome).
Teacher Access
(Premium Access including Lessons for Teacher PLUS permission to share materials with your students):
Teachers Access + 30 Students - Creative Strings Workshop Online
Receive Premium Player Access (course materials and feedback, live streams (Zoom), and lessons) for yourself. Use our premade course materials in your own teaching with up to 30 of your students.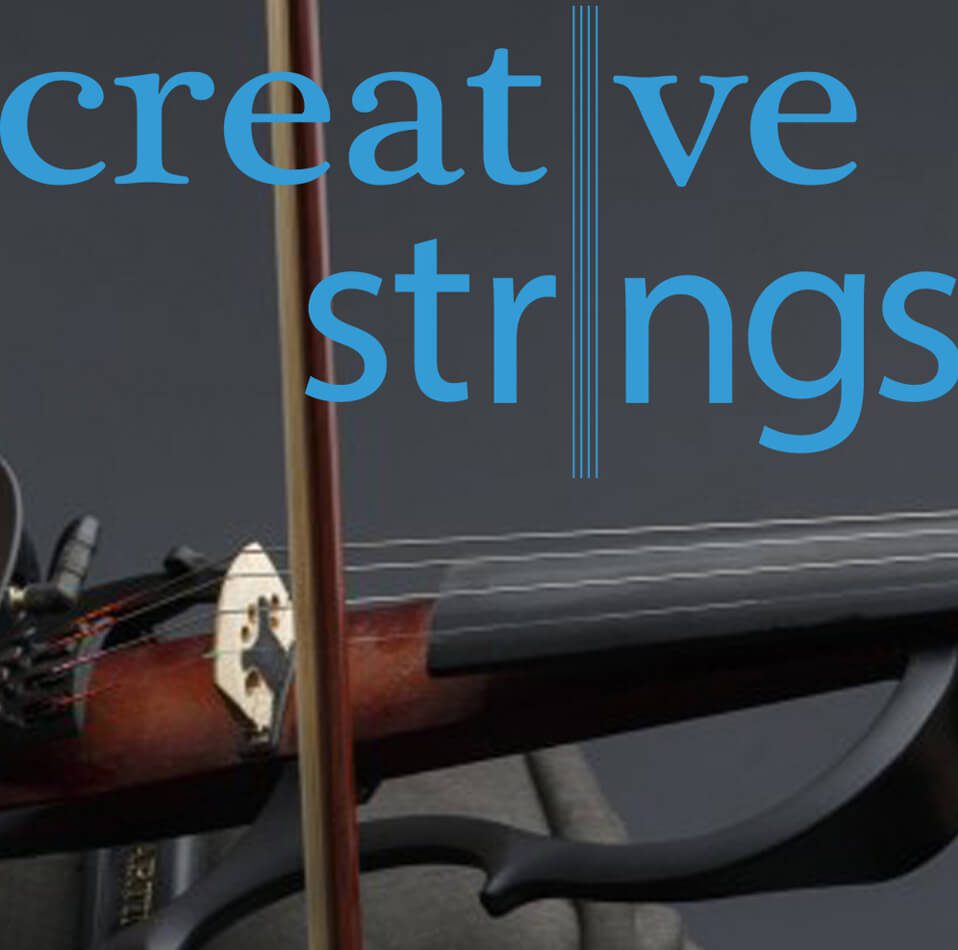 Teacher Access + 60 Students | Creative Strings Online
Receive Premium Player Access (course materials and feedback, live streams (Zoom), and lessons) for yourself. Use our premade course materials in your own teaching with up to 60 of your students.
Teachers Access + 100 Students | Creative Strings Workshop Online
Receive Premium Player Access (course materials and feedback, live streams (Zoom), and lessons) for yourself. Use our premade course materials in your own teaching with up to 100 of your students.
-Teaching more than 100 students?
-Want to plan for next school year?
-Have other questions?
Schedule a call to ask me anything or email me at chris@christianhowes.com

Testimonials: